Conferences, workshops, meetings and events will be held at the Acoustic Guitar Village inside Cremona Musica International Exhibitions, Cremona Fair on September 29th, 30th-October 1st, 2017.
MASTERCLASSES/WORKSHOPS AT THE ACOUSTIC GUITAR VILLAGE in contemporary of CREMONA MUSICA INTERNATIONAL EXHIBITIONS – CREMONA FAIR
September 29th, 30th , October 1st 2017
-Masterclass of lutherie for acoustic guitar, classical and modern
(Masterclass room 1 at the Cremona Fair offices)
teachers:  M° Jason Kostal (US), M° Richard Hoover (US), M° Steve Klein (US)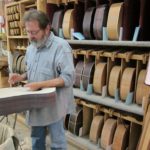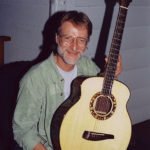 translation and coordination by Master Luthier Max Monterosso and Master Luthier Piero Guagliumi
open to all luthiers and guitar maker lovers
-Masterclass of didactic techniques for acoustic guitar
(Masterclass room 2 at the Cremona Fair offices)
teachers: Eric Lugosch (US), Micki Piperno (IT), Paolo Bonfanti (IT)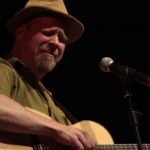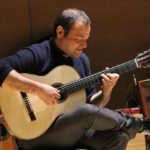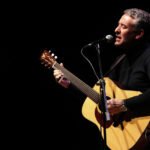 translation and coordination by Micki Piperno and Camilla Conti
Info visiting
http://www.acousticguitarmeeting.net/en/cremona-2017/2013-editiondidactic-courses/
-HISTORICAL EXHIBITIONS "The old blues guitars" by M° luthier Leonardo Petrucci  and "Guitars in the History" by M° Francesco Taranto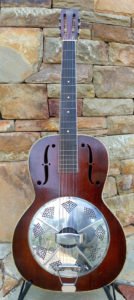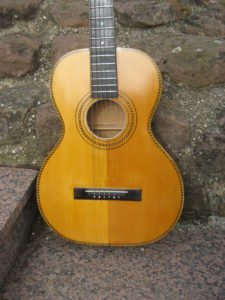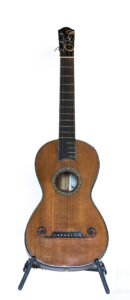 LIVE EVENTS AND CONCERTS PROGRAM:
Friday September 29th
DEMO STAGE 1 from 10am to 7pm
demos-showcases at exhibitors disposal
LIVE STAGE 2 from 3pm to 7pm:
contest "NEW SOUNDS OF ACOUSTIC MUSIC"
open to acoustic guitarists, songwriters, acoustic bands
selected by Fingerpicking.net – Accademia Lizard – Armadillo Club
Perfomances of Tommaso Pelliccia, Andrea Minuti, PrismA, Lorenzo Polidori, Francesca Ferrari, John Silver Duo, "Dorem" Giorgio Grazzini, Claudio Cirillo, Cherry in the Mud, Sara Romano, Bacci Del Buono, Going to Samoa
Partners: Taylor Guitars, Aramini, Acus Sound, John Pearse Strings, Kyser capos
COFFEE STAGE 3 from 10am to 7pm:
concerts, showcases at master luthiers disposal
Saturday September 30th
DEMO STAGE 1 from 10am to 7pm
demos-showcases at exhibitors disposal
LIVE STAGE 2 from 10am to 7pm: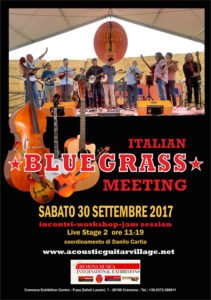 5° ITALIAN BLUEGRASS MEETING
(concerts, showcases, meetings, workshops of bluegrass musicians)
coordinated by Danilo Cartia
special guest: violinist Gilles Apap (France-Algeria)
musicisti partecipanti:
Paolo Cappa, Piero Carbonera, Davide Casera, Alessio Galli, Stefano Protti, Fabio Ragghianti, Livio Guardi, Manolo Cacciatori, Francesco Nicotera, Petr Vrobel
Jiri Kriz, Jiri Seifert, Andrea Cesone, Eugenio Poppi
Massimo Cavazzuti, Paolo Cattani, Stefano Tassi
Carlo Bergamini, Pino Siviero, Antonio Esposito
Marilena Buranello, Mirco Pivanti, Giorgio Osti
Elio Arlandi, Riccardo Biondi, Samuel Flora, Luca Minzon, Andrea Laudicina, Fabio Peretti, Alessandro Perrone, Francois Vola, Bernard Minier, Laurent Paris, Federico Ciosi, Roberto Padula, Gianni Campo, Giovanni Fantonelli, Maura Tomei
Nirvano Barbon, Pino Ninni, Stefano Santangelo, Roberto Dalla Vecchia, Jacek Loroch
Francesco Arzeni, Fabio Mosetti, Fabio Penna, Dario Lantero, Dino Di Giacomo, Pino Campanelli, Gualtiero Stolfini, Roberta Bazzani, Sergio Minelli, Emilio Vellati, Gabriele Bazza, Martino Giordano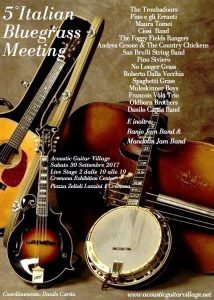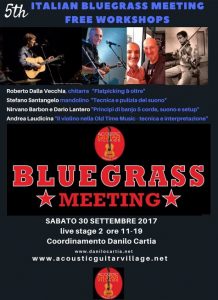 COFFEE STAGE 3 from 10am to 7pm
concerts, showcases at master luthiers disposal
Sunday October 1st
DEMO STAGE 1 from 10am to 6pm
demos-showcases at exhibitors disposal
LIVE STAGE 2 from 10am to 6pm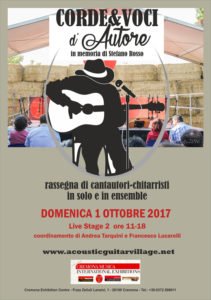 "STRINGS & VOICES D'AUTORE" in the memory of Stefano Rosso
Songwriters Show,  in solo and in ensemble
coordinated by Andrea Tarquini e Francesco Lucarelli
Musicians:
Andrea Labanca, Sara Velardo, Stefano Fedele, Anita Camarella & Davide Facchini, Francesco Lucarelli, Claudio Sanfilippo, Milena Piazzoli, Federico Sirianni, Liana Marino, Andrea Tarquini
Special guests: Diane Ponzio, Max Manfredi
Journalists present:
Enrico De Angelis, Giorgio Maimone, Paolo Pasi, Gianni Zuretti, Alessio Ambrosi, Andrea Carpi, Roberto D'Elia (liutaio), Martin Guitars, Taylor Guitars
Award: 12 strings guitar made by luthier Roberto D'Elia, Erredì Guitars
COFFEE STAGE 3 from 10am to 6pm
concerts, showcases at master luthiers disposal
Friday September 29th
TEATRO PONCHIELLI OF CREMONA
from 9pm, CREMONA MUSICA INTERNATIONAL EXHIBITIONS presents
GALA CONCERT with
DIANE PONZIO (US)
FINAZ (IT)
TUCK & PATTI (US)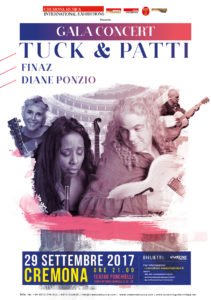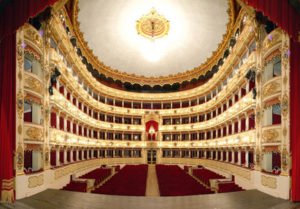 CONFERENCES – WORKSHOPS – PRESENTATIONS PROGRAM: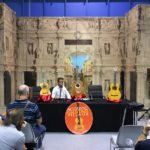 Friday September 29th
-"The 12-string guitar, Leadbelly's beloved instrument: how italian lutherie, the franciscan colonization in Mexico and border-music influenced the birth of this particular model of guitar with its unmistakable voice, now part of the history of blues, country, rock, and pop" curated by M° luthier Leonardo Petrucci
–"Guided listenings from Guadagnini and Torres to modern guitar" curated by M° F.Taranto with the partecipation of M° luthier Lorenzo Frignani
–"The new sets of strings for classical guitar by Aquila Corde Armoniche in different keys high and low: impact in musical education, in concert and in composition" curated by Mimmo Peruffo, Aquila Corde
Saturday September 30th
–Presentation of the book "Il Re del Blues" the blues explained to kids, Curci edition, curated by Reno Brandoni and Laura Moro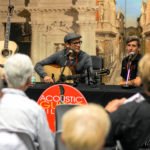 –"To remember Bill Collings, a genius of the contemporary 6-strings" with Doug Chandler, Richard Hoover (Santa Cruz Guitars), Jean Larrivée, Steve Harvey (Martin Guitars), Ignazio Vagnone
–"Work for musicians of 2000: old professions that die, new professions that arise" curated by Giovanni Unterberger, founder of Accademie Musicali Lizard and Miki Bianco
–"Antonio De Torres the great master" curated by Gabriele Lodi with exhibits of original instruments and musical participation curated by the young talent Zlatko Josip Grgić. Introduction by Virginia Villa and Giovanni Accornero, with the collaboration of  the Museum of Violin of Cremona.
–"The Acoustic Guitar in Conservatory" curated by M° Micky Piperno, with the partecipation of Andrea Carpi
Sunday October 1st
–"Classical Guitar in Italy: Pietro Gallinotti, influence on concertism and didactics" curated by M° Bruno Giuffredi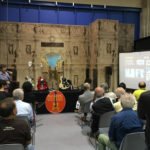 -"100 years of Jazz archtop guitar: the protagonists, the instruments, the luthiers and the musical style of the guitar aesthetically close to string instruments" curated by Carmelo Tartamella
–Presentation of the series "Studies and Educational Pieces from Past Guitar Masters" Ut Orpheus editions, curated by M° Lucio Matarazzo with guitar participation by M° Marco Caiazza
–Presentation Guitar in silk and carbon fiber curated by Luca Alessandrini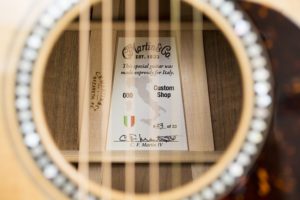 This weekend the Acoustic Guitar Village, inside Cremona Music Festival, opens its doors again, giving visitors the opportunity to see a large collection of Martin guitars. Taking centre stage among the range will be a very special 'Guitar for Italy', which has been co-designed by Martin Guitar's Custom Shop and EKO Music Group. Recent weeks have seen international Martin Guitar ambassador, Massimo Varini, spend time at EKO Music testing and evaluating the guitars, choosing for himself his personal favourite from a total of 33. Massimo will be overseeing the launch of the guitar in front of Martin lovers and dealers at the Acoustic Guitar Village on the main stage on Saturday 30th September and Sunday October 1st at 12.30pm and at the Martin booth Friday 29th September and Saturday 30th at 3.30pm. Those wishing to be present when a special player performs on a special guitar should be there.
The 000-28I is a Koa-backed model limited to just 33 pieces, and is being seen for the first time at Cremona. This exceptional model features a VTS top, three-piece back with a Cherry wedge, HD-28-style herringbone binding, and open-geared Gotoh gold-coloured tuners. The rear of the headstock is also home to a genuine 500 Lira coin from 1985, originally released to celebrate the European Year of Music. The internal label for each guitar has been personally signed by CF Martin IV, CEO and Chairman of C.F. Martin & Co. "Cremona has a unique place in the history of musical instrument making and is therefore a fitting place for the launch of this special model", commented Chris Martin before adding, "CF Martin Sr. and Stradivari shared a driving passion for perfection of tone. Though Martin came later, the dedication to the construction methods and materials is parallel, in fact spruce and maple played a big role in the success of both luthiers and their tonal works of art. So there is an obvious synergy between Martin and Stradivari, which is something we are justly proud of".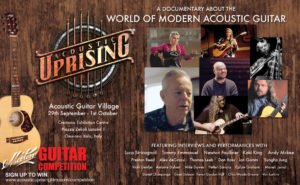 During the breaks in the events room area, it will be showed the movie "Acoustic Uprising", produced by Jenny McCloy for Fingerstyle Movie Pty Ltd
Acoustic Uprising looks at the innovative new approach to acoustic guitar known as FingerStyle. Recently this style has risen to prominence on Youtube and social media, startling and delighting millions due to it's mesmerising manipulation of the ubiquitous acoustic guitar. Through the viral nature of Youtube and the transcendent nature of their music— FingerStyle has ignited a guitar community like no other. A community of guitarists who share a passion for pushing the boundaries of the instrument and themselves to ever greater heights.
Acoustic Uprising features interviews with internationally renowned artists like Tommy Emmanuel, Kaki King, Newton Faulkner, Sungha Jung and Andy McKee.
An inspiring story about the power of community as much as musical performance, Acoustic Uprising shows how social media is enabling and encouraging a new generation to express themselves artistically like never before, whilst also fuelling a rapidly evolving culture of innovation that is pushing this style of music to ever greater heights.
Here is a link to the trailer for the film https://vimeo.com/221735055
---
(2016 photos):